Viewing By Category : Masters /
Main
Thursday, January 23, 2014
The Masters Tournament, The R&A and the United States Golf Association (USGA) announced the formation of the Latin America Amateur Championship (LAAC), a new amateur golf event aimed at stimulating growth and inspiring even greater interest in the game throughout South America, Central America, Mexico and the Caribbean.
The Founding Partners – with cooperation from the Argentine Golf Association, the 2015 host golf association – will support all
aspects in the organization and execution of the event.
The champion of the inaugural LAAC and all future winners of the event will receive an invitation to compete in the Masters Tournament, beginning in 2015. The champion will also receive a full exemption into the U.S. Amateur Championship and any other USGA amateur championship for which he is eligible and, along with the runner(s)-up, an exemption into final stage qualifying for the U.S. Open and International Final Qualifying for the Open Championship, also beginning in 2015.
"Supporting the game's continuous growth has been a responsibility taken very seriously throughout the 260-year history of The R&A," said Peter Dawson, The R&A's Chief Executive. "Having been involved in this region of the world for many years, we understand the potential impact a championship of this stature can have on golfers with dreams of competing at the highest level. We are once again delighted to embark on such a worthwhile opportunity with both the Masters and the USGA."
Mike Davis, Executive Director of the USGA, added: "This new championship represents another wonderful opportunity in the partnership that we enjoy with the Masters and The R&A to advance the amateur game around the world. The USGA is committed to the long-term health and sustainability of the game, and by partnering together we believe we can positively impact this region of the world where golf is already growing."
"We believe this event will be motivating to current and future generations of golfers and, one day, create heroes that will inspire others to give the game a try," commented Billy Payne, Chairman of Augusta National Golf Club and the Masters Tournament. "This belief has guided us well through the early successes of the Asia-Pacific Amateur Championship and, with the collective expertise in guiding the game of golf provided by The R&A and the USGA, we are hopeful in achieving equally exciting results."
During the announcement in downtown Buenos Aires, Dawson shared that the inaugural competition will take place January 15-18, 2015, at Pilar Golf, a course opened in 1992 near Argentina's capital city that has hosted the Argentine Open twice (2006, 2011), among other national championships.
The 120-player field will be comprised of the top male amateurs representing the 27 member countries and territories of the International Golf Federation in the Latin America region. Each country/territory will be automatically provided two positions, which will be filled by their highest-ranked players from the World Amateur Golf Ranking (WAGR) as of November 1, 2014. If there are only one or no players from a given country/territory in the WAGR, the national golf association will nominate one or two players accordingly, for approval by the LAAC Executive Committee. The remainder of the field will be filled by taking the next highest ranked players from the WAGR with the maximum number of players allowed from a country/territory being six. The only exception is for the host country, which will be allowed a total of 10 players.
SOURCE: http://www.golfbiz.net/latest-golf-news/2770-another-way-that-leads-to-augusta-and-elsewhere
A special offer from GolfSmith our sponsor:
---
FREE $10 GIFT CARD with $100 purchase. But don't wait. Place gift card and items in cart for offer.
---
Wednesday, April 10, 2013
A wise man once said there are only three certainties in life: death, taxes and ... nobody will ever correctly predict an entire golf tournament.
And yet, here I am. Again.
In what's become an annual rite of foolishness, I have once again attempted to prognosticate the entire Masters field – from the man who will claim the green jacket to the unfortunate soul who finishes dead last.
If this list isn't 100 percent correct on Sunday evening, I'll guarantee your money back. (But here's a thought: Maybe you're reading it upside-down?) If it is, well, brace yourself for the next installment of Tigermania.
Either way, here's hoping this helps with those for-entertainment-purposes-only office pools. Much like a good caddie, I'll let you take all of the credit, but I'll shoulder all of the blame – as long as you promise to tip 10 percent for the win.
1. Tiger Woods
Lost amid the hoopla surrounding Woods' three-win start to the season is this telling stat: On the three previous occasions that he won three times prior to the Masters, he never followed by also winning at Augusta. Clichéd translation? Don't count your green jackets before they've hatched. That said, even though I'm not as bullish about Tiger's chances as most people, I also can't find anyone in this field that I'd rank higher. A fifth Masters title – and subsequent pandemonium throughout the golf world – may be just days from taking place.
---
I was recently talking Masters contenders with a PGA Tour pro who knows Bradley's game well and picked him to win. When I inquired as to whether the former PGA champion has the right ball flight for Augusta, he looked at me funny. "Well, he hits it long and straight and high," the player said. "That's the right ball flight for every course." Duly noted. Also noted is that Bradley has been knocking on the door all year without breaking through it yet.
---
77th Masters Tournament: Articles, videos and photos
Golf Channel's Masters coverage
---
3. Rory McIlroy
So let me get this straight: Every top player talks about peaking at the right time to win major championships. But when Boy Wonder failed to peak in the weeks and months before the Masters, he was subject to ridicule for not having his best stuff yet. Well, following a solo second place at theValero Texas Open this past week, Rory may just have the last laugh. Personally, I often prefer picking players who haven't yet peaked rather than ones who already have. Hopefully your stockbroker has the same theory.
---
4. Bill Haas
Bubba Watson won the Masters in his fourth appearance; likewise, Trevor Immelman won in his fourth as a pro. Wanna take a guess as to what number this will be for Haas? After results between 26th and 42nd in his first three starts, he seems primed to contend this week. Bigger question is whether he can win. Despite four victories in the last three seasons, he's gotten into the final group on a Sunday twice already this year, but has underwhelmed each time.
---
5. Lee Westwood
Yeah, yeah. I know the knock on Westwood. By now, everyone does. He's one of the game's preeminent ball-strikers, but at times looks lost with a putter in his hands. And more often than not, those times are down the stretch in major championships. While his putting statistics don't show much improvement this season, there could be something about a gradually closing window that could help him finally hole some of those must-make putts in search of his long-awaited first major title.
---
It's funny. I keep hearing scuttlebutt about Mickelson running out of chances to win this tournament. Umm, he's won three of 'em – and that last one was just three years ago. On a course where experience may play a bigger factor than anything else, Lefty has finished outside of the top 10 just twice since 1999. He wasn't happy about not having a similar course to play the week before, but a little downtime prior to the Masters could turn out to be a blessing in disguise.
---
Upon reaching the Masters field less than two weeks ago by squeezing into the world's top 50 just before the deadline, Stenson was thrilled with the result. Not only because he gets to compete in the tournament for an eighth consecutive year, but because – in his opinion – he's playing better than he ever has before the year's first major. How much better? Well, he's first on the PGA Tour in both total driving and greens in regulation percentage. That's pretty good.
---
Tuesday, April 9, 2013
Here is a great look at Tiger at the Masters by Golfweek.com
2012
Finish: T-40
Scores: 72-75-72-74, 5-over 293
• Woods arrived at Augusta National after winning the Arnold Palmer for his first PGA Tour title since 2009. He couldn't carry his form to Augusta National, though, as he posted his worst Masters finish as a professional. This was just the second time as a professional that Woods failed to break par in the Masters. His opening round was marred by bogeys on his final two holes. He made five bogeys and two birdies in his second-round 75, and was criticized after kicking his club after a poor tee shot at the par-3 16th. "Certainly, I'm frustrated at times and I apologize if I offended anybody by that," Woods said. "But I've hit some bad shots and it's certainly frustrating at times not hitting the ball where you need to hit it." He was eight shots off the lead at the halfway point. Woods reached red figures in each of his four rounds, but couldn't keep his scores under par. He did birdie the 72nd hole, though. "I didn't hit the ball very good this week, and what's frustrating is I know what to do, and I just don't do it," Woods said. "I get out there and I just don't trust it at all. I fall back into the same old patterns again, and I just need to do more reps."
• • •
2011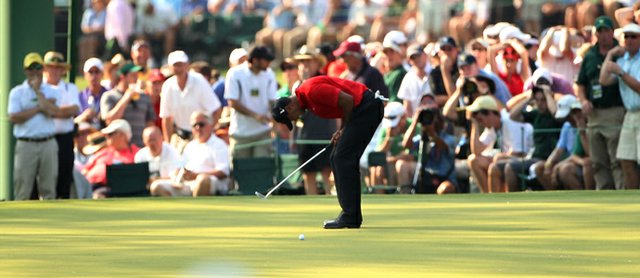 Finish: T-4
Scores: 71-66-74-67, 10-under 278
• Woods finished fourth for a second consecutive year, four shots behind Charl Schwartzel. Woods, who started the final round seven shots behind leader Rory McIlroy, made eagle at the par-5 eighth hole and was one stroke off the lead when he made the turn. After making four birdies and an eagle on the front nine, Woods had just one birdie and one bogey on the back nine. "I got off to a good start on the front nine and on the back nine didn't putt well and hit one loose iron there at 13," Woods said. "I should have shot an easy 3- or 4-under on the back nine and I only posted even."
• • •
2010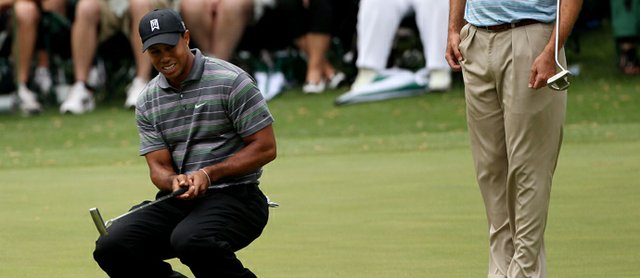 Finish: T-4
Scores: 68-70-70-69, 11-under 277
• The 2010 Masters was Woods' return from his personal scandal. Woods still found himself in contention, in spite of all that had gone on during the preceding five months. His first-round 68, which included eagles on the par-5 eighth and 15th holes, had him just two shots off Fred Couples' lead. Woods was four shots back to start the final round and playing in the second-to-last group. He made bogey on three of the first five holes, but eagled the par-4 seventh hole and birdied the next two to get back into contention. He made bogeys at Nos. 11 and 14, the latter coming on a three-putt from four feet. He took advantage of the par-5s on the back nine, making birdie at No. 13 and an eagle at No. 15 that got him within four shots. Woods birdied the last hole to finish five shots behind winner Phil Mickelson.
• • •
2009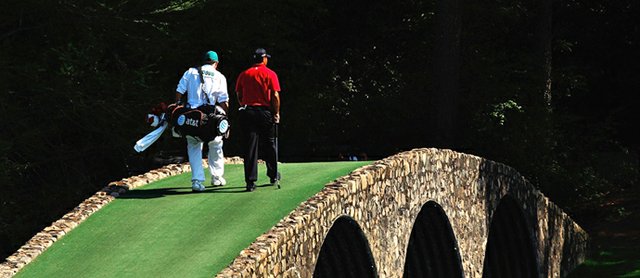 Finish: T-6
Scores: 70-72-70-68, 8-under 280
• Woods and Phil Mickelson were paired together in the final round, just as they were in 2001, but they weren't in the final group and neither walked away the winner. Both made runs at the title, though. Both started the final round seven shots off the lead, but they got within a stroke of the lead heading to the 17th hole. Woods, who bogeyed the final two holes, finished four shots out of the playoff between Angel Cabrera, Kenny Perry and Chad Campbell, which Cabrera won. Woods shot a final-round 68, including an eagle on the par-5 eighth hole. Mickelson, who shot 30 on the front nine, closed with 67 to finish three shots out of the playoff.
• • •
2008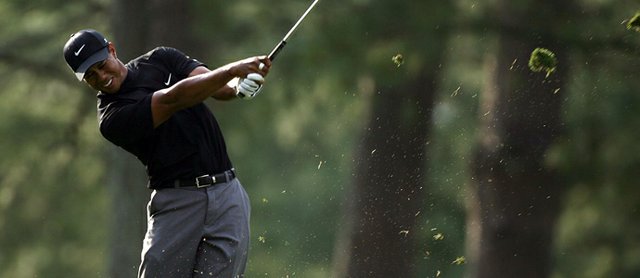 Finish: 2nd
Scores: 72-71-68-72, 5-under 283
• Woods started the final round six shots behind Trevor Immelman. His final-round 72 allowed him to pick up three shots on Immelman, but the South African still won the green jacket and Woods was runner-up. Immelman's 75 tied the record for the highest final-round score by a winner. Final-round weather conditions led to an average score of 74.67. Woods had 120 putts for the tournament, tied for 29th in the field. "I just didn't quite have it this week," Woods said. "I didn't make the putts I needed to make this entire week. I had the speed, just didn't get the line right. You have good weeks and have bad weeks. Certainly, this was not one of my best." Woods had won his first three PGA Tour events of the year, giving him seven victories in eight starts, and five in a row, before he finished fifth at the WGC-Cadillac Championship and second at the Masters. Woods' most recent major victory, at the U.S. Open, came later in the year.
• • •
2007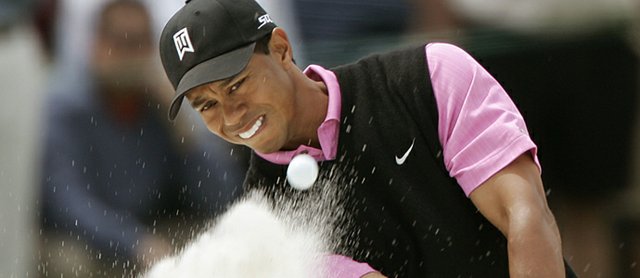 Finish: T-2
Scores: 73-74-72-72, 3-over 291
• This was the first time Woods failed to break par as a professional in any individual round at a Masters, but it was good enough for a second-place finish because of the week's cold, windy conditions. Woods finished two shots behind Zach Johnson. Woods took the lead after making a short birdie putt at the second hole. He was within two shots after his eagle on the 13th, but only made pars the rest of the way. "I had a chance," Woods said. "But looking back over the week, I basically blew this tournament on two rounds (the first and third rounds) where I had bogey-bogey finishes. That's 4 over on two holes. You can't afford to do that and win major championships."
• • •
2006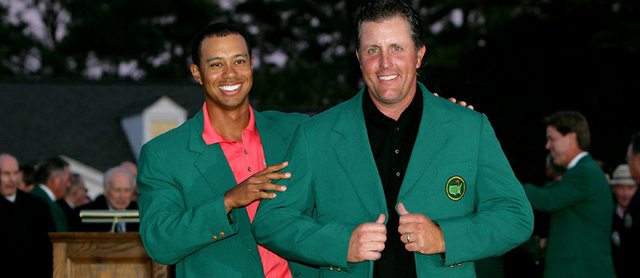 Finish: T-3
Scores: 72-71-71-70, 4-under 284
• Woods said this defeat "hurt the most of any tournament that I have failed to win. "I've lost tournaments before, and I've been through some tough defeats over the years, but nothing like that because I knew my dad would never live to see another major championship." Woods started the final round two shots behind Phil Mickelson, and shot 70 to finish three back of Mickelson, who won his second green jacket. "I pressed and I tried to make putts that instead of just allowing it to happen, I've tried to force it," Woods said. "I know he was at home watching, and just really wanted to have him be a part of one last major championship victory. And I didn't get it done. It hurt quite a bit." Earl Woods passed away that May. Woods won the Open Championship later that year and "bawled like a little baby" because his father would never witness another of his major victories.
• • •
2005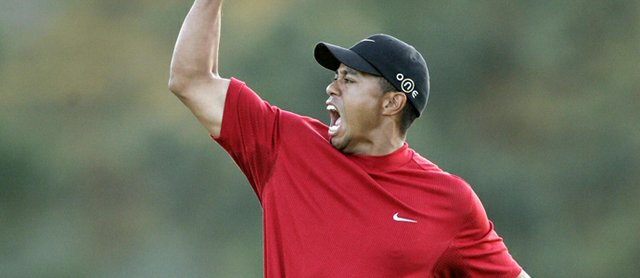 Finish: Won
Scores: 74-66-65-71, 12-under 276
• Tiger Woods was seven shots off the lead after his first-round 74, but made 16 birdies in the second and third rounds. That rally put Woods in position for a dramatic victory that included one of the most dramatic shots in tournament history. Woods' tee shot at the par-3 16th in the final round ended up left of the green. His chip skidded to an abrupt stop before trickling down a hill, hanging on the lip and falling into the hole for birdie. Woods completed the victory with a 15-foot birdie putt on the first hole of a playoff with Chris DiMarco, his companion in Sunday's final group. Woods started the final round with a three-shot lead over DiMarco, but bogeyed the final two holes of regulation. DiMarco lipped out a chip on the 72nd hole that would have given him the victory. Instead, he could only watch as Woods birdied No. 18, the first hole of the playoff. "Even though I was kind of throwing up on the last couple of holes, I kind of snuck one out in the playoff," Woods said.
• • •
2004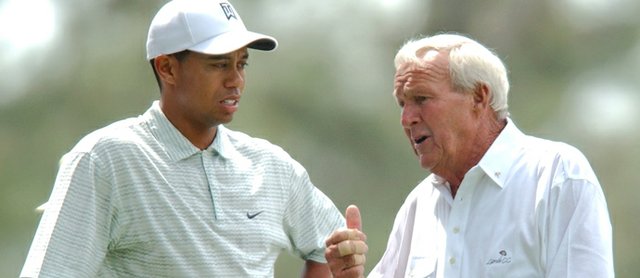 Finish: T-22
Scores: 75-69-75-71, 2-over 290
• Woods opened with a 4-over 40 and never contended. He shot two rounds of 75 or worse for the second consecutive year, and never really was in the hunt as Phil Mickelson won his first Masters title. Woods finished 11 shots back. Woods tied for sixth in greens in regulation (72.2 percent), but his 123 putts left him tied for 35th in that statistic. Woods vomited in a trash can after playing No. 1 in the final round. Woods said he "ate something that didn't agree with me" before warming up. "I felt kind of sick on the range and got progressively worse," he said. "On the first green I had to lighten the load a little bit." At the time, this was Woods' worst finish as a professional at the Masters.
• • •
2003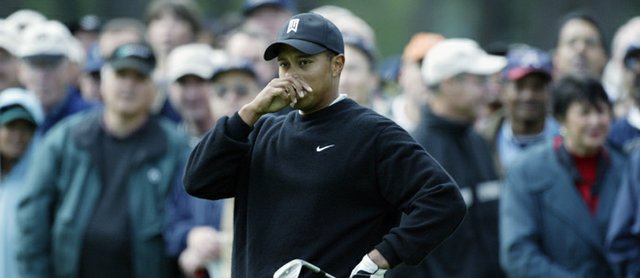 Finish: T-15
Scores: 76-73-66-75, 2-over 290
• Woods had won three times – at the Buick Invitational, WGC-Accenture Match Play and Bay Hill Invitational – before arriving at the Masters. He opened the season's first major with his worst score ever at Augusta National, though, a 76. He made the cut on the number, but his third-round 66 put him within four shots of 54-hole leader Jeff Maggert. A final-round 75 dropped Woods to 15th place, though. Any chances at a final-round charged seemed undone by a double-bogey after driving into the trees at the short, par-4 third hole and a bogey at the next. "It was just one of those weeks where I couldn't really get anything going for an extended period of time," Woods said.
• • •
2002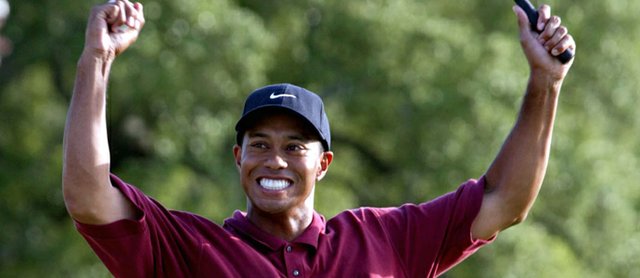 Finish: Won
Scores: 70-69-66-71, 12-under 276
• Major changes to Augusta National's hallowed grounds couldn't keep Tiger Woods from becoming just the third player to win back-to-back Masters, joining Jack Nicklaus (1965-66) and Nick Faldo (1989-90). Woods finished three shots ahead of Retief Goosen, the reigning U.S. Open champion. Half of Augusta National's holes were lengthened to give the course a total yardage of 7,270 yards. Woods shot a third-round 66, the day's low score, to share the 54-hole lead with Goosen. Woods shot 71, while Goosen closed with 74. Phil Mickelson finished third, just as he did in Woods' 2001 victory.
• • •
2001
Finish: Won
Scores: 70-66-68-68, 16-under 272
• Tiger Woods' victory at the 2001 Masters was his fourth consecutive triumph in a major championship, completing the so-called "Tiger Slam." He became the first player to hold all four major titles at the same time. Woods made an 18-foot birdie putt on the final hole to finish at 16-under 272, two shots off his own 72-hole scoring record, and beat David Duval by two shots at Augusta National. Duval missed birdie putts from within 15 feet on the final two holes. Phil Mickelson, who played with Woods in the final pairing, finished three shots back. Woods and Mickelson were Nos. 1 and 2 in the Official World Golf Ranking.
• • •
2000
Finish: 5th
Scores: 75-72-68-69, 4-under 284
• Woods was on quite a run before the 2000 Masters. He had three wins and three runners-up in seven official PGA Tour starts before Augusta. A first-round 75 that included a double-bogey at No. 10 and triple-bogey at the 12th hurt his chances, though. A second-round 72 left him at 3 over par. He tried his best to rally on the weekend, though, eventually finishing fifth, six shots behind Vijay Singh. Woods' third-round 68 was the day's low round, and his first sub-70 score at Augusta National since the final round in 1997. He closed with a 69. "At least I gave myself a chance after Thursday," Woods said. "For some reason, the golfing gods weren't looking down on me this week."
• • •
1999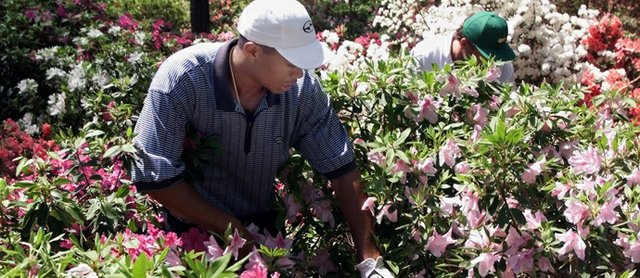 Finish: T-18
Scores: 72-72-70-75, 1-over 289
• Woods' first two rounds included a triple-bogey 8 on No. 8 in the first round and a double-bogey 5 on the 12th hole in the second round. He made eagle on the par-5 13th in the third round to shoot 70. He started the final round five shots behind eventual winner Jose Maria Olazabal, but shot 75 Sunday. Woods' 289 total was nine shots back of Olazabal. No one broke 70 in the final round.
• • •
1998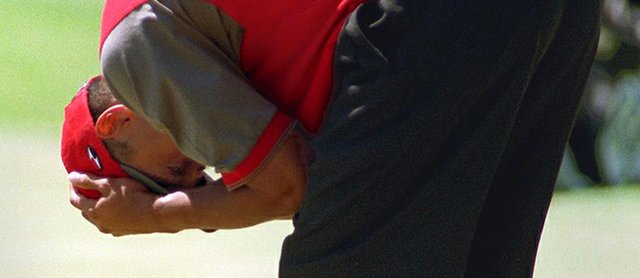 Finish: T-8
Scores: 71-72-72-70, 3-under 285
• Woods never broke 70 in his title defense, finishing six shots behind good friend Mark O'Meara, who birdied the final two holes for a one-shot victory over Fred Couples and David Duval. Woods He made 18 birdies for the week, but also had 13 bogeys.
• • •
1997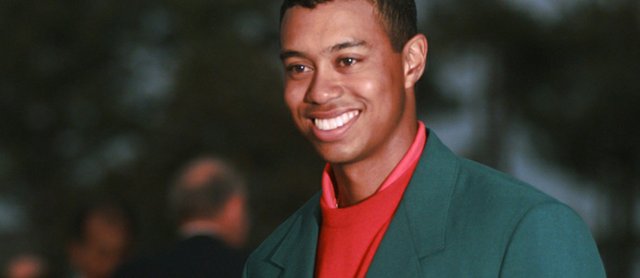 Finish: Won
Scores: 70-66-65-69, 18-under 270
• Tiger Woods rewrote the record book in his first Masters appearance as a professional. Woods, 21, became the youngest player to win the Masters while also setting the record for low 72-hole total (270) and largest margin of victory (12 shots). Woods opened the tournament with 4-over 40 on his first nine holes, but shot 30 on the second nine, including a chip-in birdie at No. 12 and an eagle on the 15th, to salvage a first-round 70.
• • •
1996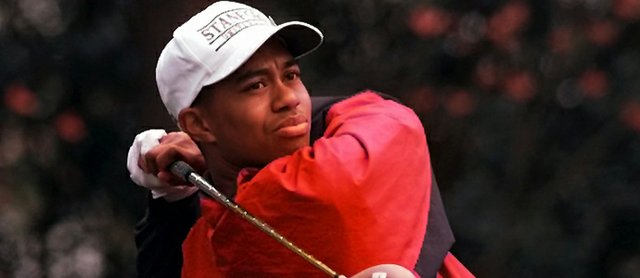 Finish: Missed cut *
Scores: 75-75, 6-over 150
• Woods, 20, returned to the Masters after winning a second consecutive U.S. Amateur. This was his only missed cut in 18 Masters appearances. It also would be his final appearance as an amateur at Augusta National. He'd win his first green jacket just a year later.
• • •
1995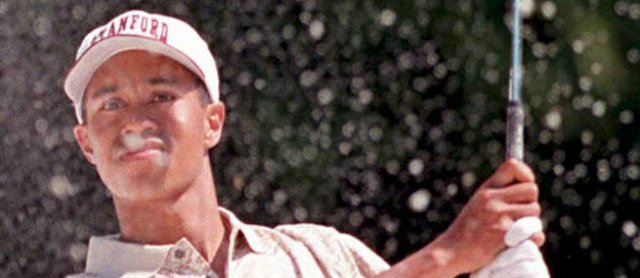 Finish: T-41 (low amateur) *
Scores: 72-72-77-72, 5-over 293
• Tiger Woods' highly-anticipated Masters debut included a practice round with Arnold Palmer and Jack Nicklaus, and ended with the 19-year-old earning low amateur honors. Woods recalled, " 'Arnold comes up to me and says, 'How about a little Skins Game today?' I said, 'Well, I don't have any cash.' He says, 'Don't worry about it. Just play hard.' " Palmer made a putt on 18 "for all the skins, basically," Woods said. He earned his first Masters invitation with his victory at the previous year's U.S. Amateur at TPC Sawgrass, his first of three consecutive U.S. Amateur titles.
* – played as amateur
Friday, April 5, 2013
I hope you're sitting down and not holding a hot beverage because I'm going to tell you something pretty exciting; we are just seven days from Masters week!
Yes, the Masters are basically upon us, and with that comes updated Masters odds. Who is the favorite? Well, Tiger Woods by a mile. He's still 3-to-1 to win his fifth green jacket, with Rory McIlroy and Phil Mickelson both coming in at 10-to-1 and a number of other big names behind him.
I still love Louis Oosthuizen at 25-to-1 and don't mind Ian Poulter at 40-to-1. What value do you see on the board?
THE FIELD (all others) is 20/1
ODDS TO WIN:
TIGER WOODS 3/1
RORY McILROY 10/1
PHIL MICKELSON 10/1
LUKE DONALD 25/1
LEE WESTWOOD 25/1
ADAM SCOTT 25/1
JUSTIN ROSE 20/1
BUBBA WATSON 30/1
DUSTIN JOHNSON 25/1
JASON DUFNER 40/1
RICKIE FOWLER 40/1
HUNTER MAHAN 40/1
MATT KUCHAR 25/1
KEEGAN BRADLEY 25/1
LOUIS OOSTHUIZEN 25/1
CHARL SCHWARTZEL 20/1
JASON DAY 50/1
WEBB SIMPSON 50/1
NICK WATNEY 50/1
STEVE STRICKER 40/1
GRAEME McDOWELL 50/1
ERNIE ELS 100/1
PADRAIG HARRINGTON 60/1
SERGIO GARCIA 40/1
IAN POULTER 40/1
BO VAN PELT 80/1
PETER HANSON 80/1
ZACH JOHNSON 80/1
GEOFF OGILVY DNQ
JIM FURYK 80/1
MARTIN KAYMER 60/1
BRANDT SNEDEKER 20/1
BILL HAAS 60/1
FRANCESCO MOLINARI 125/1
NICOLAS COLSAERTS 60/1
K.J. CHOI 100/1
RETIEF GOOSEN 250/1
MARTIN LAIRD 250/1
CARL PETTERSSON 150/1
HENRIK STENSON 50/1
MATTEO MANASSERO 125/1
KYLE STANLEY 250/1
FRED COUPLES 125/1
JOHN SENDEN 200/1
FREDRIK JACOBSON 150/1
AARON BADDELEY 250/1
GARY WOODLAND 250/1
DAVID TOMS 200/1
BEN CURTIS 200/1
PAUL CASEY DNQ
SEUNG-YUL NOH 500/1
BEN CRANE DNQ
SEAN O'HAIR DNQ
PAUL LAWRIE 200/1
THOMAS BJORN 200/1
ROBERT GARRIGUS 100/1
SCOTT PIERCY 125/1
RYAN PALMER 500/1
VIJAY SINGH 150/1
ANGEL CABRERA 80/1
ANTHONY KIM DNQ
ROBERT KARLSSON 200/1
JONATHAN BYRD 500/1
TREVOR IMMELMAN 200/1
TIM CLARK 150/1
RYO ISHIKAWA 250/1
CHARLES HOWELL III DNQ
ALVARO QUIROS DNQ
ALEXANDER NOREN DNQ
THORBJORN OLESEN 125/1
BUD CAULEY 500/1
RYAN MOORE 100/1
Y.E. YANG 200/1
KEVIN NA 200/1
BRANDEN GRACE 125/1
STEWART CINK 125/1
SANG-MOON BAE 250/1
MARC LEISHMAN 250/1
LUCAS GLOVER 150/1
TED POTTER, JR 500/1
DARREN CLARKE 300/1
MICHAEL THOMPSON 150/1
JOHN PETERSON 500/1
DAVID LYNN 300/1
JOSE MARIA OLAZABAL 500/1
BERNHARD LANGER 300/1
ALAN DUNBAR 2000/1
MIKE WEIR 500/1
TOM WATSON 1000/1
FIELD (all others) 20/1
Monday, August 20, 2012
NEW YORK – For the first time in its 80-year history, Augusta National Golf Club has female members.
The home of the Masters, under increasing criticism the last decade because of its all-male membership, invited former Secretary of State Condoleezza Rice and South Carolina financier Darla Moore to become the first women in green jackets when the club opens for a new season in October.
Both women accepted.
''This is a joyous occasion,'' Augusta National chairman Billy Payne said Monday.
The move likely ends a debate that intensified in 2002 when Martha Burk of the National Council of Women's Organizations urged the club to include women among its members. Former club chairman Hootie Johnson stood his ground, even at the cost of losing Masters television sponsors for two years, when he famously said Augusta National might one day have a woman in a green jacket, ''but not at the point of a bayonet.''
The comment took on a life of its own, becoming either a slogan of the club's resolve not to give in to public pressure or a sign of its sexism, depending on which side of the debate was interpreting it.
Payne, who took over as chairman in 2006 when Johnson retired, said consideration for new members is deliberate and private, and that Rice and Moore were not treated differently from other new members. Even so, he took the rare step of announcing two of the latest members to join because of the historical significance.
''These accomplished women share our passion for the game of golf and both are well known and respected by our membership,'' Payne said in a statement. ''It will be a proud moment when we present Condoleezza and Darla their green jackets when the club opens this fall. This is a significant and positive time in our club's history and, on behalf of our membership, I wanted to take this opportunity to welcome them and all of our new members into the Augusta National family.''
A person with knowledge of club operations said Rice and Moore first were considered as members five years ago. That would be four years after the 2003 Masters, when Burk's protest in a grass lot down the street from the club attracted only about 30 supporters, and one year after Payne became chairman.
Moore and Johnson are close friends, both with roots in South Carolina and banking, and the person said Payne and Johnson agreed on the timing of a female member. The person, who spoke on condition of anonymity because the club typically does not discuss membership issues, said it was important to Payne to be respectful of the membership process. The person said prospective members often are not aware they are being considered.
Augusta National, which opened in December 1932 and did not have a black member until 1990, is believed to have about 300 members. While the club until now had no female members, women were allowed to play the golf course as guests, including on the Sunday before the Masters week began in April.
The issue of female membership never went away, however, and it resurfaced again this year after Virginia Rometty was appointed chief executive of IBM, one of the Masters' corporate sponsors. The previous four CEOs of Big Blue had all been Augusta National members, leading to speculation that the club would break at least one tradition - membership for the top executive of IBM or a men-only club.
Rometty was seen at the Masters on the final day wearing a pink jacket, not a green one. She was not announced as one of the newest members.
Moore, 58, first rose to prominence in the 1980s with Chemical Bank, where she became the highest-paid woman in the banking industry. She is vice president of Rainwater, Inc., a private investment company founded by her husband, Richard Rainwater. She was the first woman to be profiled on the cover of Fortune Magazine, and she made a $25 million contribution to her alma mater, South Carolina, which renamed its business school after her.
Moore was mentioned as a possible Augusta National member during the height of the all-male membership debate in 2002. She and Johnson worked on South Carolina's $300 million capital campaign in the late 1990s.
''Augusta National has always captured my imagination, and is one of the most magically beautiful places anywhere in the world, as everyone gets to see during the Masters each April,'' Moore said. ''I am fortunate to have many friends who are members at Augusta National, so to be asked to join them as a member represents a very happy and important occasion in my life.
''Above all, Augusta National and the Masters Tournaments have always stood for excellence, and that is what is so important to me.''
Rice, 57, was the national security adviser under former President George W. Bush and became secretary of state in his second term. The first black woman to be a Stanford provost in 1993, she now is a professor of political economy at Stanford's Graduate School of Business.
''I have visited Augusta National on several occasions and look forward to playing golf, renewing friendships and forming new ones through this very special opportunity,'' Rice said in a statement released by the club. ''I have long admired the important role Augusta National has played in the traditions and history of golf. I also have an immense respect for the Masters Tournament and its commitment to grow the game of golf, particularly with youth, here in the United States and throughout the world.''
Rice recently was appointed to the U.S. Golf Association's nominating committee.
Johnson regarded the membership debate as infringing on the rights of a private club, even though every April it hosts the Masters, the most popular of the four major championships, which brings in millions of dollars through television rights for the highest-rated telecast in golf.
In a 2002 interview with The Associated Press, Johnson said the makeup of the club was more about four members-only parties each year than who plays the course.
''Our club has enjoyed a camaraderie and a closeness that's served us well for so long, that it makes it difficult for us to consider change,'' he said. ''A woman may be a member of this club one day, but that is out in the future.''
A special offer from GolfSmith our sponsor:
---
FREE $10 GIFT CARD with $100 purchase. But don't wait. Place gift card and items in cart for offer.
---