Viewing By Category : Michelle Wie /
Main
Monday, November 16, 2009
GUADALAJARA, Mexico — Michelle Wie won the first LPGA event of her career on Sunday, fulfilling the promise of a decade with a 3-under par 69 to win the Lorena Ochoa Invitational by two strokes over Paula Creamer.
Wie finished off the victory in style, hitting a greenside bunker shot to 6 inches on the 18th hole and then tapping in for a birdie.
The 20-year-old Wie raised both arms in the air — her putter in her right hand — and then put her hand over her mouth. After pulling the ball out of the hole, she turned to the gallery, looked to the sky and let out a large sigh of relief.
Morgan Pressel (67), Jiyai Shin (71) and Cristie Kerr (72) were three back. Wie finished a 13-under 275 after starting the day at the Guadalajara Country Club tied for the lead with Kerr at 10 under.
Wie first qualified for a USGA event at age 10 and played an LPGA event when she was 12. She joined the LPGA this season and has begun to show the sizzling game that has made her arguably the biggest attraction in women's golf.
Wie had a few shaky moments but she was steadier down the stretch as her rivals faltered. In the past, it's often been the Hawaiian who has stumbled.
She had chances to pull away on the front nine, but couldn't quite do it and finished with a 2-under 34 — 12 under for the tournament. She went to 13 under with a birdie on 11, giving her a one-shot lead over Creamer and Kerr. Wie bogeyed the next hole when her escape shot from under a cluster of trees squarely hit a trunk, the ball rebounding into the fairway behind her.
But she made par through 17.
Creamer drew even with Wie with an eagle on 10. But two bogeys down the stretch ruined her chances of victory.
"I gave it a chance, and Michelle played great," said Creamer, who has battled stomach problems for a year and fought off back and thumb injuries. She is winless this year after eight career victories.
"I feel a lot better with my golf," she said. "It's just unfortunate that you're so close, yet you're so far away."
The LPGA, battered by economic problems and the forced resignation of its commissioner this summer, needs this as much as Wie.
"Literally, when Michelle Wie is atop the leaderboard it's like night and day and that's star power," LPGA spokesman David Higdon said the day before Wie's win. "That's all it is. This is somebody people want to follow. You see it in her presence, the way she walks around. The way people talk to her."
Wie played PGA Tour events when she was 14 — the biggest stage there is. She was criticized at the time for not focusing on women's events. She turned pro in 2005 before even finishing high school.
She ignored the criticism and, at 16, she was poised to become the first woman to qualify for the men's U.S. Open before her putter failed her.
Shortly after that she began to lose confidence and the biggest attraction in women's golf went into a long, painful slump that was made worst by a wrist injury that ruined her 2007 season.
She has slowly worked her way back, earning her LPGA card for this season, gaining credibility with players and emerging as a star on this year's Solheim Cup, going undefeated in four matches.
When she is on her game, it flies with soaring drives and better and better touch on the greens. Wie has finished second twice this season, and has two other third-place finishes on the LPGA Tour.
A special offer from GolfSmith our sponsor:
---
FREE $10 GIFT CARD with $100 purchase. But don't wait. Place gift card and items in cart for offer.
---
Tuesday, May 16, 2006
Golf News, Source,
USAToday.com
.- KAHUKU, Hawaii —
Michelle Wie wanted to do something special
for her mother's birthday. Mission accomplished.
Wie moved a step closer in her long-shot bid to become the first female player to qualify for the U.S. Open, shooting an even-par 72 on Monday to win a local qualifier.
"Awesome," she said after a USGA official told her the results were official.
The USGA believes she is the first woman to get through local qualifying for the U.S. Open. Wie and two other players advanced to sectional play next month, with Wie saying she will play in the June 5 36-hole sectional at Canoe Brook in Summit, N.J.
Playing on her home island of Oahu in front of about two dozen people, Wie was steady for most of her round on the breezy, oceanside Palmer Course at Turtle Bay Resort, but missed a couple of short putts. She had four birdies and four bogeys.
For Wie, it's back to Punahou School where she closes out her memorable junior year, where she turned pro, finished third in the Fields Open and tied for third in the Kraft Nabisco Championship, both times missing a playoff by one shot. She has earned $181,449, which would place her 16th on the LPGA Tour's money list.
"I have finals, papers. I'm kind of overwhelmed with school right now," she said. "But summer is very close."
Tuesday, May 9, 2006
Golf News, Source,
USAToday.com
.- SEOUL (AP) —
Teenage golfer Michelle Wie signed an advertising contract with a South Korean real estate developer
Tuesday, as she wrapped up a trip here after succeeding in making the cut in a men's tournament.
Under the two-year contract, Wie will appear in TV and newspaper commercials for ShinYoung Co., a developer that builds apartments and other buildings, the company said in a statement.
ShinYoung didn't disclose the amount of the contract, but South Korea's Yonhap news agency, without citing sources, reported the deal was worth $3 million.
Wie's "spirit shown in a series of competitions against men befits ShinYoung's image as a developer," the company said. It said her commercials will be filmed in Hawaii and New York starting later this month and will be shown from August.
On Friday, Wie made the cut in a men's tournament for the first time in eight attempts while playing in the Asian Tour's SK Telecom Open. She finished 35th in the tournament.
Wie was born and raised in Hawaii, but her parents are South Korean. She speaks fluent Korean, has a Korean name — Wie Sung-mi — and many of her relatives, including grandparents, live here.
Because of that background, many South Koreans consider her Korean. Local media often include Wie among "Korean" golf stars playing in the United States, and the news agency Yonhap referred to her latest trip to Korea as a "visit to homeland."
Friday, May 5, 2006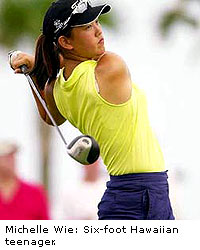 Golf News, Source,
PGA.com/news-
INCHEON
, South Korea (AP) --
Michelle Wie
made her first cut in a professional men's tournament Friday
after shooting a 3-under-par 69 in the Asian Tour's SK Telecom Open.
Wie finished at 5-under 139 after two rounds and was tied for 17th at the Sky 72 Golf Club course, six strokes behind co-leaders Iain Steel of Malaysia (66) and Prom Meesawat of Thailand (64). The cut was set at even-par 144.
''It's just wonderful. Great. I feel really, really happy,'' Wie said. ''Now I want play well tomorrow. It's not over yet.''
The Hawiian-born teenager becomes the second woman to make the cut at a men's tournament in South Korea; LPGA star Se Ri Pak finished tied for 10th in the lower-tier Korean PGA Tour SBS Pro-Golf Championship in 2003.
The SK Telecom Open is Wie's eighth start in a men's professional event.
Tuesday, March 28, 2006
Golf News, Source, .-
When the first Rolex Women's World Golf Rankings were released two weeks ago, all the talk centered around the fact that Michelle Wie - who has never won a professional golf tournament - was No. 3 in the world.
After she finished third at the LPGA Fields Open last week, Wie moved up to No. 2. I firmly believe that Wie is the second most-talented female golfer in the world - not potentially, but right now. However, if I compiled my own subjective world rankings, I could not bring myself to place a player looking for her first win at No. 3 or No. 2.
Michelle Wie does not appear in the Sagarin rankings because she is two events short of meeting the minimum appearances requirement. However, if that requirement was lowered to allow Wie into the rankings, she would be No. 2 in the world. And she would have been No. 2 even before the Fields.
So no matter what we might subjectively think about a non-winner coming in at No. 2, two different world rankings, using two different models, call Wie the second-best female golfer in the world.
What's up with that?
Here's a clue: While Wie has not yet won, she does, more often than not, beat the other top women in the world of golf. The Sagarin rankings, in fact, build in to its system "won-loss" records for every golfer versus every other golfer. For example, if Meena Lee and Christina Kim play the same event 16 times, and Kim finishes ahead of Lee in nine of those tournament's, then Kim's record against Lee is 9-7, and Lee's won-less record against Kim is 7-9. In the eight tournaments of 2005 in which Wie and Paula Creamer both competed, Wie was 5-3.
In its most recent issue, Golfweek takes a look at Wie's won-loss record against other top players dating to the start of the 2003 season. Here's what they came up with:
• Annika Sorenstam: Sorenstam leads Wie 13-3-1, the only player Golfweek looked at who has a winning record against Wie. However, Wie leads 2-1-1 over their past four common events.
A special offer from GolfSmith our sponsor:
---
FREE $10 GIFT CARD with $100 purchase. But don't wait. Place gift card and items in cart for offer.
---